Project Description
Together with MindMeister, World of Minds, aHa!Coaching, Hypershifters Connection of Minds has built a track record of supporting TED events with LiveMindMapping and presenting TED Talks in the form of clickable mind map websites during and after the TEDx events. These online mind maps will help you follow the talks in main and subtopics while keeping an eye on the whole picture. Also, they will stimulate you to make new connections and thus new ideas worth spreading yourself and hopefully also worth doing! In 2009 Connection of Minds started with mindmapping the first TEDx event in The Netherlands: TEDxAmsterdam 2009. Ever since Connection of Minds was the preffered supplier for mindmapping during TEDx events in The Netherlands and abroad:
In the media
To spread the word on LiveMindMapping, we have published several articles.
About TED
TED is a non profit organization devoted to Ideas Worth Spreading. Started as a four-day conference in California 25 years ago, TED has grown to support those world-changing ideas with multiple initiatives. The annual TED Conference invites the world's leading thinkers and doers to speak for 18 minutes. Their talks are then made available, free, at TED.com.
About TEDx
TEDx was created in the spirit of TED's mission, "ideas worth spreading." The program is designed to give communities, organizations and individuals the opportunity to stimulate dialogue through TED-like experiences at the local level. At TEDx events, a screening of TEDTalks videos — or a combination of live presenters and TEDTalks videos — sparks deep conversation and connections. TEDx events are fully planned and coordinated independently, on a community-by-community basis.
Why LiveMindMapping during TEDx?
During the Talks, live mindmaps will be created and simultaneously posted to the web. This enabled all TED fans at home, the office or wherever to not only watch the live video stream, but also too view a live mindmap stream on the web! Seeing a live mind map stream helps you to focus on the main topics and sub topics while not losing sight of the bigger picture. It also stimulates you to associate freely, because a mind map visualisation stimulates the right and left half of your brain to work together more closely. Research has pointed out that this increases your creativity, problem solving ability and enhances your memory capabilities. Please view a screenshot of the LiveMindMap landing page of TEDGlobal2012.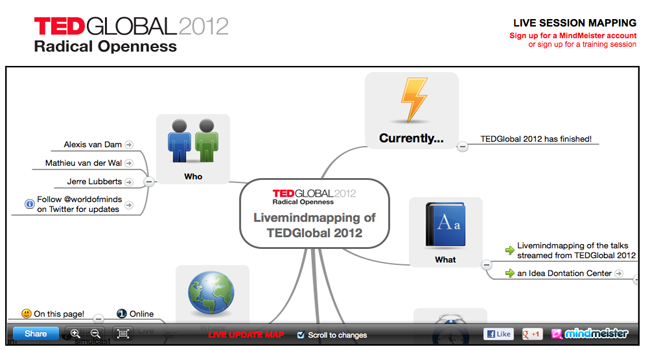 The process of creating a mindmap?
It is a thinking process stimulated by a specific note taking method. With mind mapping you filter out the most important thoughts and visualize them for everyone to see by writing them down in a visual or mind map. You put the central topic in the middle of the mind map, the main topics close to the central topic and the sub topics further away from the title. By using organic shaped lines, colours, icons and images it will also serve as a memory technique. When doing this electronically live during the event a second livemindmapper can also add video's, links to sites, docs, social media and so on. This way a richer mindmap will be build during the talk and presented after the talk.
Advantages of mind mapping
There are several advantages, the most important ones are: improving creativity, problem solving and memory. Livemindmapping (making a mind map live) is in our vision one of the most important 'tools' to quickly 'getting everyone on the same page' in order to stimulate alignment not just agreement. It has become one of the fundaments of 'A New Smarter Way of Work' (in Dutch; 'Het Nieuwe Werken') and helps to 'fight' the information overload and to survive in corporate live!
Mind mapping in the future?
According to Daniel Pink (author of 'A whole New Mind') we cannot solve the big (and small) problems of our 'conceptual age' with just 'left hemisphere thinking'. We and especially our children must use our 'whole brain' and creative powers to ensure a sustainable future for everyone on our planet. It is not human nature to do this so we must set up programs to stimulate this 'whole brain movement'. We believe TEDx could offer a platform for this, hopefully stimulated by the different livemindmapping formulas of Connection of Minds and the 'meta mind maps' that we create together with the audience.
Project Details
Client TEDx
Date 20 november 2009
Tags Events en congressen, Idea Donation Center, International, LiveMapping Broadcast