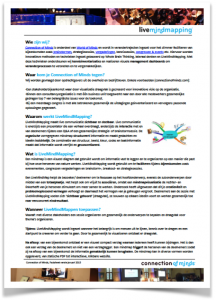 Over Connection of Minds
Wie is Connection of Minds?
Waar kom je Connection of Minds tegen?
Waarom werkt Live Digital Mapping?
Wat is Live Digital Mapping?
Wanneer Live Digital Mapping toepassen?
Onze factsheet geeft op één A4 een beknopt antwoord op bovenstaande vragen. Wij ondersteunen om meer uit een bijeenkomst te halen, mee te denken/ helpen om een bijenkomst dusdanig in te richten zodat deelnemers zich gehoord voelen en bijvoorbeeld kennis inzichtelijk en daarmee deelbaar te maken.
De eventspecialisten van Connection of Minds adviseren om bijeenkomsten event leuker, interactiever, spreekmakender en nuttiger te maken. Na het invullen van onderstaand formulier sturen wij de factsheet direct via e-mail toe:
[contact-form-7 id="1433″ title="Aanvraag factsheet"]