Connection of Minds (an affiliate of World of Minds) believes in the power of communication before, during and after events, congresses, meetings and brainstorm sessions. A team of professional (visual) facilitators is dedicated to helping organisers and owners align, prioritise and structure participants' thoughts.
Tap into the collective brain of the crowd
Tapping into collective knowledge is powerful and valuable. When our facilitators (moderators and LiveMindMappers) tap into this collective brain by visualizing ideas and insights live on screen, participants are able to make relevant links to the content.They understand each other on a higher level and come up with better ideas. Participants leave sessions with more energy, insights and ideas (widespread support)! Participants feel they are understood because their contributions are visually recorded and structured. Change processes can be undertaken faster and with more support. This results in a competitive edge over others.
The process of creating a mindmap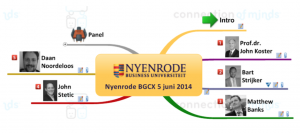 Mind mapping is a thinking process stimulated by a specific note taking method. With mind mapping you filter out the most important thoughts and visualize them for everyone to see by writing them down in a visual or mind map. You put the central topic in the middle of the mind map, the main topics close to the central topic and the sub topics further away from the title. By using organic shaped lines, colours, icons and images it will also serve as a memory technique. When doing this electronically live during the event, a second LiveMindMapper can also add video's, links to sites, docs, social media and so on. By doing so a richer mindmap will be build during the talk and presented afterwards.
Advantages of mind mapping
There are several advantages to mind mapping. The most important ones are improving creativity, problem solving and improvement of memory. Live Digital Mapping (making a mind map live) is in our vision one of the most important tools to quickly 'getting everyone on the same page' in order to stimulate alignment, not just agreement. It has become one of the fundaments of 'A New Smarter Way of Working' (in Dutch; 'Het Nieuwe Werken') and helps to 'fight' the information overload and to survive in corporate life!
Mind mapping in the future?
According to Daniel Pink (author of 'A whole New Mind') we cannot solve the big (and small) problems of our 'conceptual age' with just 'left hemisphere thinking'. We – and especially our children – must use our 'whole brain' and creative powers to ensure a sustainable future for everyone on our planet. It is not human nature to do this, so we must set up programs to stimulate this 'whole brain movement'. We believe TEDx could offer a platform for this, hopefully stimulated by the different Live Digital Mapping formulas of Connection of Minds and the 'meta mind maps' that we create together with the audience.
Connecting ideas, insights and people
Connection of Minds uses several methods, technologies and templates (5W+H, decision trees, stakeholder maps). Besides moderating, Connection of Minds visually facilitates, by using Live Digital Mapping, at events and congresses, brainstorm sessions and meetings. The output is shared in a mindmap as PDF or via an innovative clickable mindmap website with a dialogue system. Participants are also invited to directly place comments in an online mindmap. In addition, online and offline participants (at hybrid events) can follow the live, online mindmap. We also offer social media interaction by means of tweeting ideas with a hashtag. The team of Connection of Minds puts these tweets in a live online mind map. The online buzz and ideas are captured in a visual map as a nice summery of a session.
We have been preferred supplier of Live Digital Mapping at several international events such as TEDxAmsterdam, TEDxRotterdam, Metropolitan Summit and Infographics Conference, to name just a few. Please browse through our portfolio of (international) events.
Formula for interaction – Dynamic Dialogue
The Dynamic Dialogue formula is based upon the fifth principle of the 7 Habits of Highly Effective People (Steven Covey): 'Seek first to understand before wanting to be understood." When people attend events and congress, brainstorm sessions and meetings, it is important that they get something out of it, together with the organizer / owner. When people interact, ideas start to flow and are shared, relationships between ideas are constructed and insights are created. The dynamic dialogue consists of three rounds, each with one statement. The total group of participants is clustered in seven to ten people. Each cluster starts a dialogue on the same central statement. The instruction to all participants is to first seek to understand before wanting to be understood. The core focus is: "Did I understand correctly that you are talking about…"
The moderator checks in at each cluster after ten minutes and seeks new, innovative, ground breaking ideas and insights with respect to the statement. An extra trick to use active listing effectively during the Dynamic Dialogue is the application of the Talking Stick (Covey). This formula delivers on interaction and captures ideas and insights. It is possible to use this formula for large groups with a minimum timeslot of 45 minutes. The Dynamic Dialogue is often part of parallel sessions at events & congresses and / or sessions to bring interactivity, collect, capture and share knowledge and ideas.
Interested?
Please inform about the possibilities to organise an congress, event, brainstorm and / or meeting with more interaction, better capturing of ideas which no one will forget.