Project Description
On May 19th a team of LiveMindMappers from Connection of Minds supported the ALS Investorsday. Every now of then Connection of Minds support events organized for a good cause. In this cause Connection of Minds contributed LiveMindMapping expertise to make the ideas, insists and content delivered at the event easy to share with others. The ambition of Qurit: accelerating a cure for ALS. They bring together impact investors, biotech entrepreneurs, word-class scientists, empowered patients and business experts, to accelerate a breakthrough for ALS medicine.
ALS Investors Day Qurit Alliance
On May 19th, several keynote speakers presented insights and information on this disease. To capture are relevant insights in main and subtopics the LiveMindMappers use the Keynote Mapping formula. Please read more on what is a mind map and how the LiveMindMappers create mind maps. Please view the mind maps of the talks below via the mind map website. A new tab will open wherein all the content and insights are shared. The mind maps are also available to download in PDF format.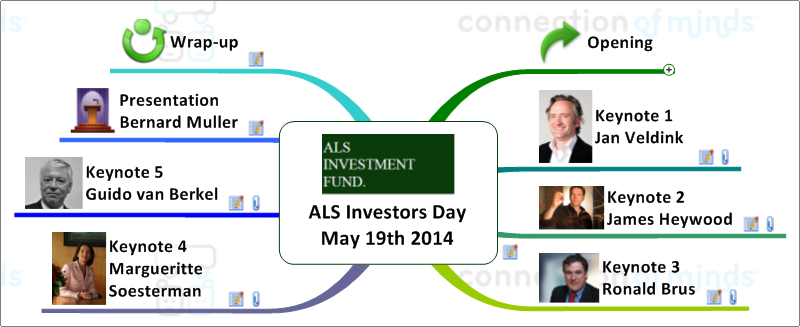 I approached Connection of Minds (affiliate of World of Minds) because I was looking for a way to capture all the information that was shared at the ALS Investors Day. 
World of Minds helped us by creating a Mind Map of the full day. This meant concisely translating what was being presented by highly specialized Key Note Speakers to an accurate overview for future reference. The result was exactly what we were looking for as the day was properly captured and can now be revisited by those who are interested in what has been discussed One thing I liked was their ability to grasp the complex information at hand and mold it into a user-friendly overview which is even accessible online.  I found the experience very rewarding and was especially impressed with their commitment to this cause as they were so kind to help us free of charge.
I would highly recommend World of Minds to people/companies who need an innovative way of creating an overview of meetings/events/sessions.
Interested in the possibilities of LiveMindMapping?
If you are an owner of an event and/ or an organiseren please check out how Connection of Minds can help you to get more interaction at your event and also better capturing of valuable ideas, knowledge and insights. Please contact us.
Please contact us
Project Details
Client Qurit Alliance, Accenture
Date 19 mei 2014
Tags Events en congressen, International, Keynote Mapping
Launch Project